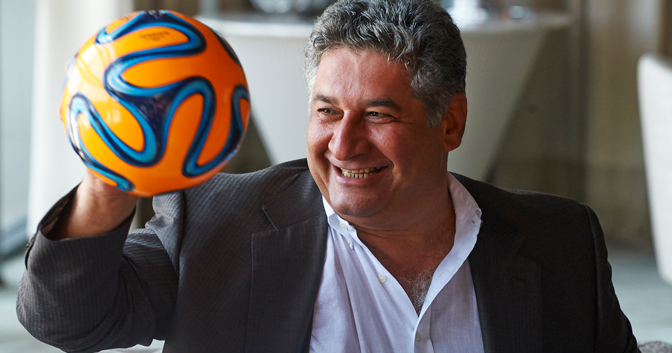 The country`s Minister of Youth and Sport is sure that beach soccer will be one of the top sports at the European Olympic Games in Baku next year Azad Rahimov, Azerbaijan`s Minister of Youth and Sports, is a great beach soccer fan. The high-ranking official recently attended the Euro Beach Soccer Cup Baku 2014 and was thoroughly impressed with the excitement, energy, and fun. Rahimov has been delighted by beach soccer and the progress it has made in getting into the first European Olympic Games Baku 2015, but he did not stop there and went on to say, "I am very happy to see how this Euro Beach Soccer Cup has taken place, and we are very proud that such an important competition comes to Azerbaijan, showcasing some of the best teams in the world, and offering an excellent spectacle. This is undoubtedly the best way to keep fostering the popularization of this sport among the fans here."
In addition to attending the festivities of the EBSC Baku 2014, Rahimov also held a meeting with Joan Cusco (BSWW Executive vicepresident and FIFA Beach Soccer Committee member), Elkhan Mammadov (AFFA General Secretary), Farid Novruzi (President of the Azerbaijan Beach Soccer Association) and Gabino Renales (BSWW Deputy vicepresident), to work on the future of the sport in the country, with the European Olympic Games in the horizon. The proof is in the pudding, as they say, and Rahimov stated, "Beach Soccer is parallel in popularity to football in Azerbaijan…and I know it will be one of the most important sports in the European Olympics Baku 2015."
Azerbaijan has made great strides in beach soccer and the on-field product is showing that as they played in two of the most memorable matches of the season, the first an overtime thriller against Greece and the second a 17 goal shootout against Switzerland. The Minister of Youth and Sport could have told anyone that this was inevitable but took a more modest approach when saying, "The country has been investing in sports infrastructures over the last years, and it is great to see that this effort is paying off. Our plan is to integrate the youngest generations and to educate them in a new culture of sports, in which beach soccer takes a very relevant place." The results are not debatable as Azerbaijan also thrilled spectators in Torredembarra when they finished in third place in the Promotion Final earlier in August after defeating a very accomplished Turkey side.
Azad Rahimov also reiterated, "We look forward to keep hosting beach soccer top-flight events in the future, as we firmly believe that we can do great things together. People here love beach soccer." We could not have said it any better and we here at Beach Soccer Worldwide look forward to the continued prosperity of beach soccer not only in Azerbaijan but everywhere.